Home | Exhibitions | Blog | Bio | Contact
---
Blog
| | |
| --- | --- |
| Metamorphosis of a Car | Jun 2, 2011 |
On March 12, 2011, Hanne's apartment building suffered a major fire, as described in this Albany Patch article. After a long delay, Hanne was rescued from her third floor unit by a fire department ladder, and most of the belongings in her apartment survived the fire as well, though with considerable smoke damage. (Hanne's next door neighbor was not so fortunate, and eventually died from smoke inhalation due to the fire.) Hanne's car, however, which was parked in the garage underneath the building, suffered major damage to the exterior. She was told to forget it, it's totaled, but miraculously she could drive it out of the building. After thoroughly cleaning the outside to find out what was underneath, she took the car to a shop to have a cost estimate done for repair and repainting. She was told it would be just short of $3000. She decided to have done only the repairs needed to drive the car legally, and to do the repainting herself. Below are some before and after photos of the car: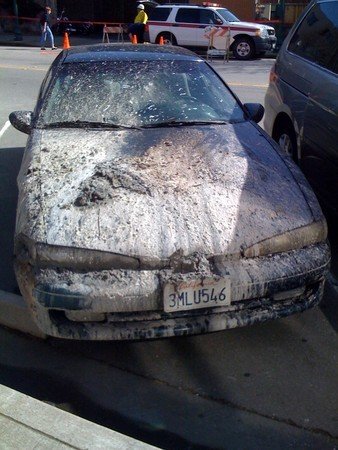 Immediately after the fire.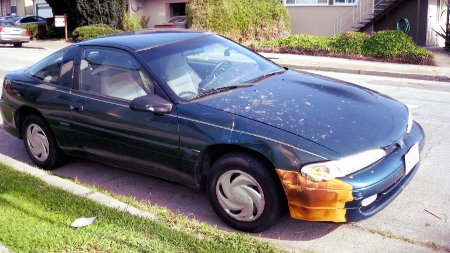 After scraping and washing the outside.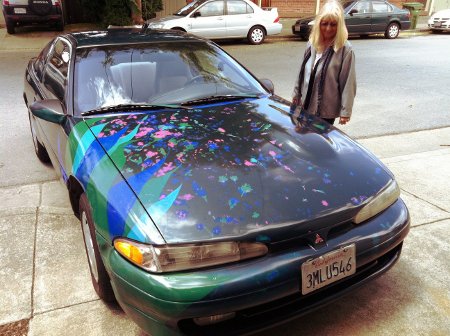 After painting. Hanne and her new car, blossoms are bursting out of the flames, and there is new life!
| | |
| --- | --- |
| Initial Blog Entry | June 1, 2011 |
This blog is for information related to Hanne's art that does not fit into any of the other website categories. It will probably not be updated frequently. If you would like to comment about this blog, or about the website in general, please use email (see the contact page for current email address), as there will not be a separate comment system or guestbook.
---